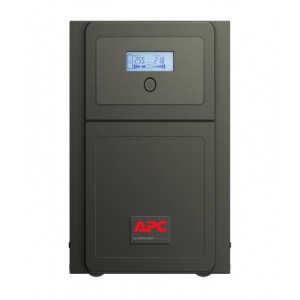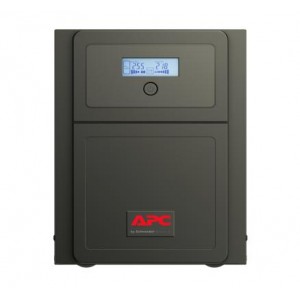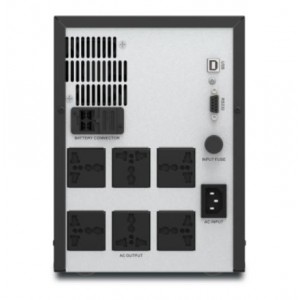 Secured Shopping
Best security features
Nationwide Shipping
Nationwide Shipping
Manufacturer Warranty
Manufacturer Warranty
APC Easy UPS SMV 2000VA Universal Outlet 230V ( SMV2000AI-MS )
Stock:

10

Model:

SMV2000AI-MS

Weight:

27.00kg

Dimensions:

42.05cm x 33.60cm x 61.10cm

SKU:

SMV2000AI-MS

MPN:

SMV2000AI-MS

APC
Products Sold: 0
Product Views: 2216


Easy UPS provides power protection for unstable power conditions, ensuring consistent and reliable connectivity at the most critical moments.
Includes: Documentation CD, USB cable, User manual
SMV2000AI-MS Features

Key Features
Output power capacity : 1.4kWatts / 2.0kVA
Output Connections : (6) Universal receptacle (Battery Backup)
Nominal Output Voltage : 230V
Nominal Input Voltage : 230V
Input Connections : IEC 60320 C14
Automatic Voltage Regulation (AVR)

Automatically steps up low voltage and steps down high voltage to levels that are suitable for your equipment.
Cold-start capable

Provides temporary battery power when the utility power is out.
LCD graphics display
Text and mimic diagrams that display modes of operation, system parameters and alarms.
Pure sine wave output on battery
Simulates utility power to provide the highest degree of compatibility for active PFC (power factor corrected) servers and sensitive electronics.
Easy UPS Features & Benefits
Features
Boost Automatic Voltage Regulation (AVR) : Preserves battery life and maximizes runtime by correcting low voltages without discharging the battery.
Transformer-block spaced outlets :
Protect equipment with input transformer blocks without blocking access to other receptacles.
Sleek design : Slim, modern design can be upright, flat, or wall-mounted to comfortably fit any electronics set-up and complement home décor.
Cold-start capable :
Provides temporary battery power when the utility power is out.

Intelligent battery management : Maximizes battery performance, life, and reliability through intelligent, precision charging.
Battery failure notification :
Provides early-warning fault analysis on batteries enabling timely preventive maintenance
Advanced Safety Features :
Safeguard your Home UPS from overloads, excessive mains voltages, short circuits, installation mishaps and battery damage due to low voltage situations.
Output

Max Configurable Power (Watts) : 1.4kWatts / 2.0kVA
Output Frequency (sync to mains) : 50/60 Hz +/- 1 Hz Unsynchronised
Load Crest Factor : 3 : 1
Topology : Line interactive
Waveform type : Sine wave
Transfer Time : 2-6 ms typical : 12 ms maximum
Input

Input frequency :
45 - 65 Hz +/- 1 Hz Auto-sensing
Input voltage range for main operations :
165 - 295V
Number of Power Cords :
1
Other Input Voltages :
220 V, 240 V
Batteries & Runtime
Battery type : Lead-acid battery
Typical recharge time :
4hour(s)
Nominal Battery Voltage :
48 V
Expected Battery Life (years) :
3 - 5
Battery Charge Power (Watts) :
75 Watts
Battery Volt-Amp-Hour Capacity :
336
Communications & Management
Audible Alarm :
Alarm when on battery : distinctive low battery alarm : overload continuous tone alarm
Surge Protection and Filtering
Surge energy rating :
125Joules