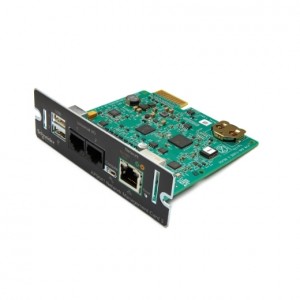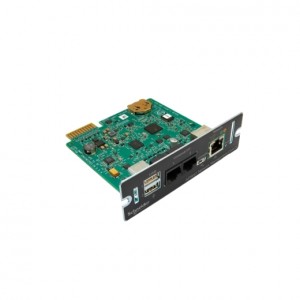 Secured Shopping
Best security features
Nationwide Shipping
Nationwide Shipping
Manufacturer Warranty
Manufacturer Warranty
UPS Network Management Card 3 with Environmental Monitoring ( AP9641 )
Stock:

1

Model:

AP9641

Weight:

1.00kg

Dimensions:

6.10cm x 24.50cm x 16.90cm

SKU:

AP9641

MPN:

AP9641
Products Sold: 0
Product Views: 1895


Remote monitoring and control of an individual UPS by connecting it directly to the network.

Includes: Temperature sensor, USB cable, User manual
AP9641 Features
UPS Network Management Card 3 with Environmental Monitoring
Remote monitoring and control of an individual UPS by connecting it directly to the network.
Includes: Temperature sensor, USB cable, User manual


BACnet/IP Support for Smart-UPS : Supports reporting UPS information to Building Management Systems or other third party management systems via BACnet/IP (BTL certified) (Single Phase Smart-UPS only)
Command line interface : Offers simultaneous remote management access through Telnet and SSH
Compatible with Smart-UPS : Compatible with Smart-UPS. For complete list of supported Smart-UPS, please refer to FAQ ID br /a href="https://www.apc.com/us/en/faqs/index?page=content&id=FA237786"FA237786./a
Device Encryption : Securely connect via HTTPS/SSL, SSH (up to 2048-bit encryption), SNMPv3
Expandable Input and Output Ports : Supports the Temperature Sensor, Temperature and Humidity Sensor and Dry Contact I/O Accessory
Gigabit Ethernet Support : Supports faster Communication at 1 Gbps (Gigabit per second) over Network.
IPv6 Support : Capable of operating on a network using IPv6 protocol
Micro-USB based Console Support : For faster and easier Troubleshooting and Configuration.
Modbus TCP Support : Supports reporting UPS information to Building Management Systems or other third party management systems via Modbus TCP.
Multiple language support : Web browser interface available in English, French, Russian, Chinese, Japanese, Korean, German, Italian, Spanish, Portuguese
Multiple user access : Supports simultaneous web browser access for up to 8 users and network command line interface access for up to 3 users
Root of Trust Support : Supports Secure Boot with Root of Trust for enhanced Security.
Smart Battery Management Support : Detailed battery information including battery cartridge parameters provides early-warning fault analysis to simplify management of the entire battery system (SRT Smart-UPS only).
Standard UPS RFC 1628 MIB Compatible : Make UPS information available to your preferred network, server or enterprise management system by forwarding SNMP traps (events) using RFC 1628 MIB.
UPS Firmware Update : User friendly mechanism to remotely and seamlessly update UPS firmware via the web browser interface (SMX, SMT and SRT Smart-UPS only).


UPS Network Management Cards Features & Benefits
Total cost of Ownership
Flash upgradeable firmware : Install maintenance releases of firmware remotely using FTP.
Browser Accessible : View the user interface with a browser. Provides quick access from anywhere on a secure network.
Manageability
Notification : Be notified of problems to ensure crucial situations are dealt with in a timely manner.
Enterprise management system compatible ": Make device information available to your preferred enterprise management system by forwarding SNMP traps (events) across SNMPv1 and SNMPv3 using the PowerNet MIB
Integrates with StruxureWare Data Center Expert : An IT-ready, scalable access monitoring system that collects, organizes, and distributes critical alerts, surveillance video and key information, providing a unified view of complex physical infrastructure environments from anywhere on the network
Data logging : Identify problematic trends before they escalate or export the data log for analysis.
Scheduled shutdown and reboot : Customize shut down and reboot of connected equipment and UPSs.
Event logging : Pinpoint the timing and sequence of events leading up to an incident with the event log.
Protection
Radius support : Use an existing radius server to securely authenticate, authorize, and account for your APC device.
Multi-tier user access : Supports up to four access levels - Administrator, Device User, Read-Only User and Network-only User - with user name and password requirements.
Password Security : User-selectable password with strong password rules and reset password mechanism.
Network Shutdown : Reliable network-based shutdown of multiple servers
Availability
Reboot equipment remotely : Saves dispatching technicians to remote locations.
Marketing features
Remote device management : Enable management of your UPS by connecting it directly to the network.
Fault notification : Real-time event notification minimizes response times to critical physical infrastructure situations. Enables IT Administrators to reduce mean time to repair, improve efficiency, and maximize uptime.
Technical Specifications
Communications & Management
Authentication :Radius
Physical
Maximum Height : 38MM, 3.8CM
Maximum Width : 121MM, 12.1CM
Maximum Depth : 114MM, 11.4CM
Net Weight : 0.09KG
Environmental
Operating Temperature : 0 - 45 °C
Operating Relative Humidity : 0 - 95 %
Operating Elevation : 0 - 3048meters
Storage Temperature : -5 - 45 °C
Storage Relative Humidity : 0 - 95 %
Storage Elevation : 0 - 15240meters
Conformance
Approvals : AS/NZS 3548 (C-Tick) class A, EN 55022 class A, EN 55024, FCC part 15 class A, GOST, ICES-003, VCCI class A
Standard warranty :2 years repair or replace
Sustainable Offer Status
RoHS : Compliant
Tags:
network
,
management
,
card
,
with
,
environmental
,
monitoring
,
ap9641
,
uninterruptible
,
power
,
supply
,
accessories
,
peripherals
,
Network
,
Management
,
Card
,
Environmental
,
Monitoring
,
AP9641
,
Uninterruptible Power Supply (UPS)
,
Accessories and Peripherals