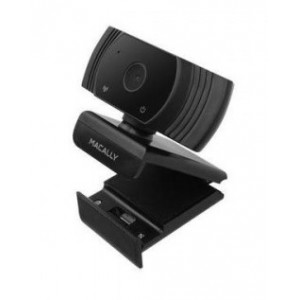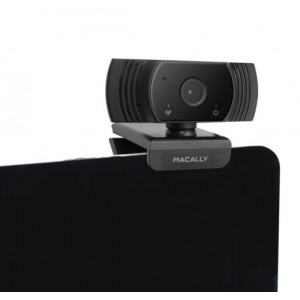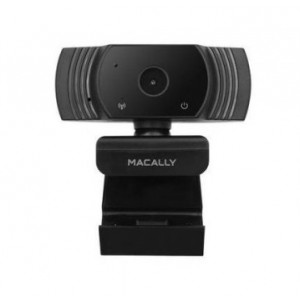 Secured Shopping
Best security features
Nationwide Shipping
Nationwide Shipping
Manufacturer Warranty
Manufacturer Warranty
MACALLY High Definition 1080P Video Webcam for PC and Computer, Home, School, and Business
Stock:

5

Model:

MZOOMCAM

Weight:

1.00kg

Dimensions:

18.00cm x 20.00cm x 11.00cm

SKU:

MZOOMCAM

UPC:

701107499437

MPN:

MZOOMCAM

Macally
Products Sold: 0
Product Views: 1680
MACALLY MZOOMCAM High Definition 1080P Video Webcam for Home, School, and Business

FEATURES:
- Full HD 1080p (30fps), auto light balance and color correction for crisp and clear video calling and recording
- Integrated omnidirectional microphone that lets your voice be heard loud and clear
- Tripod-ready universal clip that fits perfectly on laptops and LCD monitors (tripod included).
- Enjoy video conferencing with today's most popular web-chat and live-stream applications like Zoom, Skype, Twitch and many others.
- H.264 encoded video compression so you can enjoy faster, smoother video and better image quality with less demand on your computer resources.
BENEFITS:
- THE PERFECT WEBCAM FOR ANY SITUATION: As video calls and streams are becoming more popular, it is essential to have an easy to use and reliable USB webcam. Whether it is for business meetings, school or a live stream channel our web camera will suite your needs.
- STUNNING VIDEO & AUDIO QUALITY: Share incredible moments with friends, colleagues and loved ones. Clear full 1080p (30FPS) video quality and a built-in omindirectional microphone will immerse you in the conversation. and feel almost as good as being there in person.
- VIDEO CALLING & STREAMING MADE EASY: Our webcam is true plug and play. As long as your laptop or computer has a USB port you can begin video calling within minutes. No extra drivers or software, compatible with both Macs & PCs.
- SEAMLESS COMPATIBILITY WITH POPULAR APPS: This webcam was designed and tested to work with the most popular video calling and streaming apps. This includes Zoom, Skype, Twitch, Face time, and more. Spend more time video calling and less on the setup.
SYSTEM REQUIREMENTS:
USB A port (2.0 or 3.0)
Windows 10 or later, Windows 8/7 / Mac OS 10.6 or higher
Chrome OS, Android v5.0 or above
SETUP/INSTALLATION:
Plug the USB-A end of the cable into any available USB-A port on your computer.
Pull the mounting clip downward and place the camera up against the top of your laptop or LCD monitor. Then bring the mounting clip upward until it hits the back of the screen.
OR To use the tripod simply screw the tripod into the bottom of the mounting clip and expand the tripod legs.
Select the video calling application of choice, open Preferences to select your webcam.
TECHNICAL SPECIFICATIONS:
- Sensor: 2.0Mega Pixels 1/3 CMOS
- Video Resolution:1920x1080
- Video frame rate:1080@30FPS
- H.264:1920*1080/1280*720/640*480/640*360
- JPEG:1920*1080/1280*720/640*480/640*360
- YUY2:640*360
- Field angle: 108 degree
- Mono Built-in Microphone
- USB cable length: 5ft
- Focus Type: Fixed Focus
- Video Output:USB Video Streaming
- Image Control: Fixed focus/Auto white and balance
- Horizontal viewing angle: 60-120 degrees
= Camera fixing method:360°rotation