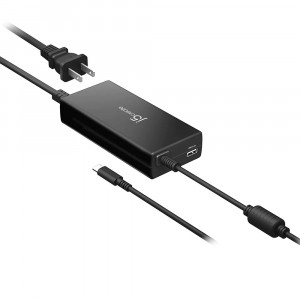 Secured Shopping
Best security features
Nationwide Shipping
Nationwide Shipping
Manufacturer Warranty
Manufacturer Warranty
j5 create 100W PD USB-C™ Super Charger - JUP2290
Stock:

1

Model:

JUP2290

Weight:

0.48kg

Dimensions:

18.00cm x 14.50cm x 7.90cm

SKU:

JUP2290

MPN:

JUP2290

J5Create
Products Sold: 0
Product Views: 1038
About This Product

Charge your USB-C™ powered devices and a USB™ mobile device simultaneously with this USB-C™ Super Charger. With the Power Delivery 3.0/2.0 technology, it can supply power of 5V/3A, 9V/3A, 12V/3A, 15V/3A, and 20V/4.5A to your USB-C™ devices. Perfect for Apple® MacBook®, iPhone® X/8/8 PLUS, Nintendo Switch™, Nexus™ 5X, Nexus™ 6P and more.
The JUP2290 is equipped with an attached USB-C™ cable and a USB™ Type-A port. You can now charge your mobile device without powering up your laptop/tablet.

The charger works perfectly with the JCD543 USB-C™ Triple Display Docking Station.

Features

Up to 100W fast-charging power for 2 devices
* USB-C™ Power Delivery 3.0
* USB™ Type-A fast-charging port (max 2.4A)

Built‐in intelligent IC to automatically identify the connected devices

Automatically balances output when charging 2 devices at once
* Provides up to 87W via the USB-C™ cable and up to 12W for the USB™ Type-A port when charging 2 devices at once.

Surge, overcharging, overcurrent and overheating protection to ensure safe charging


Power Delivery (PD) charging is a fast-charging protocol that is compliant with the safety standards of USB™ charging. PD also offers smart power management across multiple peripherals so each device will only draw the power it requires.
Specifications
Hardware
Input: 100 – 240V; 50/60 Hz; 2A
USB-C™ Output: 5V/3A, 9V/3A, 12V/3A, 15V/3A, 20V/4.5A 90W Max
USB™ Type-A Output: 5V/2.4A
Physical Specifications
Dimensions:
Main body:
4.92 (W) x 2.32 (H) x 1.02 (D) in.

125(W) x 59(H) x 26(D) mm


Cable length: USB-C® cable: 47.24 in. (120 cm)
Weight: Approximately 0.6 lb/278g
Environmental

Storage Temperature: -10 – 65°C (F)
Storage Humidity: < 85% non-condensing
Operation Temperature: 0 – 25°C (F)
Operation Humidity: < 85% non-condensing
What's in the box :

JUP2290 100W PD USB-C™ Super Charger


Detachable power cord length and plug type varies by region