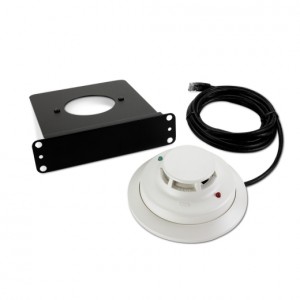 Secured Shopping
Best security features
Nationwide Shipping
Nationwide Shipping
Manufacturer Warranty
Manufacturer Warranty
APC NetBotz Smoke Sensor - 10 ft. ( NBES0307 )
Stock:

1

Model:

NBES0307

Weight:

2.50kg

Dimensions:

22.60cm x 32.20cm x 16.20cm

SKU:

NBES0307

APC
Products Sold: 0
Product Views: 1390

Universal Sensor that detects smoke in IT spaces. This sensor supplements the existing life safety system already in place.
Includes: Cable ties, Rack mounting brackets



NBES0307 Features


NetBotz Smoke Sensor - 10 ft.
Universal Sensor that detects smoke in IT spaces. This sensor supplements the existing life safety system already in place.
Includes: Cable ties, Rack mounting brackets

RJ-45 sensor connection type : Automatically detected by compatible NetBotz appliances and easily extended with standard CAT5/6 cable to 100 feet.


NetBotz Sensors Features & Benefits


Agility
Unique identifiers : Customize each sensor with a differentiating name and location.

Availability
Optional sensors : Add sensors to compatible NetBotz Appliances for monitoring temperature, humidity, fluid, vibration, dust particles, etc.
Low profile sensors : Small sensors allow for placement flexibility.

Technical Specifications


Physical
Maximum Height : 132MM, 13.2CM
Maximum Width : 175MM, 17.5CM
Maximum Depth : 168MM, 16.8CM
Net Weight : 0.7KG

Environmental

Operating Temperature : 0 - 45 °C
Operating Relative Humidity : 0 - 95 %
Operating Elevation : 0 - 3048meters
Storage Temperature : -15 - 65 °C
Storage Relative Humidity : 0 - 95 %
Storage Elevation : 0 - 15240meters

Conformance
Standard warranty : 2 years repair or replace

Sustainable Offer Status
RoHS : Compliant