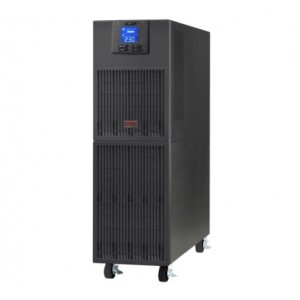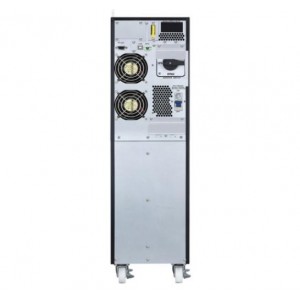 Secured Shopping
Best security features
Nationwide Shipping
Nationwide Shipping
Manufacturer Warranty
Manufacturer Warranty
APC Easy UPS On-Line SRV 6000VA 230V ( SRV6KI )
Stock:

10

Model:

SRV6KI

Weight:

66.00kg

Dimensions:

91.00cm x 29.00cm x 49.50cm

SKU:

SRV6KI

MPN:

SRV6KI

APC
Products Sold: 0
Product Views: 1652
SRV6KI Features
Easy UPS On-Line Features & Benefits
Features
Double conversion on-line topology : Guarantees a consistently high level of power quality. Any disturbances on the distribution waveform are regenerated via the zero transfer time AC to DC then DC to AC conversion process. The battery is only used as a back-up source.
ECO Mode : Operating mode that by-passes unused electrical components in good power conditions to achieve high operating efficiency without sacrificing protection
Allows the user to manage the UPS functions, schedule automatic shutdown and monitor the power grid occurrences through an interactive interface that ensures an easy and intuitive monitoring. : Management Software
Input power factor correction : Minimizes installation costs by enabling the use of smaller generators and cabling.
Intuitive LCD interface : Provides clear and accurate information in multiple languages with the ability to configure the UPS locally with easy to use navigation keys.
Generator compatible : Ensures clean, uninterrupted power to protected equipment when generator power is used.
High efficiency : High efficiency rates that remain stable even at lower operating power levels
Safety-agency approved : Ensures the product has been tested and approved to work safely with the connected service provider equipment and within the specified environment.
Management Software : Allows you to easily monitor your utility power and manage your UPS.
Pure sine wave output on battery : Simulates utility power to provide the highest degree of compatibility for active PFC (power factor corrected) servers and sensitive electronics.
Technical Specifications
Output
Max Configurable Power (Watts) : 6.0kWatts / 6.0kVA
Output Voltage Note : Configurable for 220 : 230 or 240 nominal output voltage
Efficiency at Full Load : 94.0 %
Output Voltage Distortion : 1 %
Output Frequency (sync to mains) : 50/60 Hz +/- 3 Hz Sync to mains
Other Output Voltages : 220 V, 240 V
Load Crest Factor : 3 : 1
Topology : Double conversion online
Waveform type : Sine wave
Bypass : Internal bypass (automatic and manual)
Input
Input frequency : 40 - 70 Hz Auto sensing
Input voltage range for main operations : 110 - 300 Half load, 176 - 300 Full loadV
Efficiency at Full Load : 94.0 %
Other Input Voltages : 220 V, 240 V